This time we would like to introduce you to "BONKURA SAKABA", an izakaya located in Osaka.
The eternal question that confronts visitors to Osaka is whether to choose "okonomiyaki" or "teppan-yaki. Should I go for okonomiyaki, teppan-yaki, or kushikatsu? The revolutionary solution is to visit all of them.
Have you forgotten the results of your medical checkup the other day?
Well, as a practical matter, it would take quite a bit of time to go from one place to another, and you might lose time for sightseeing. This restaurant answers that question with 120 points. This restaurant has all of Osaka's gourmet foods (not only takoyaki).
Outline of the store
The restaurant is located in Osaka City, Osaka Prefecture.
This restaurant is located in Osaka City, Osaka Prefecture. The nearest station is Gamo 4-chome, one stop from Kyobashi. Gamo 4-chome is a neighborhood of Kyobashi, and while it has a lively atmosphere unique to Osaka, it is also a bedroom town, so you can say that it is a downtown-like town in Osaka with a somewhat laid-back atmosphere.
The restaurant is located on the second floor of the building in front of the station. Since drinking is a prerequisite at this restaurant, the main time to visit is at night. Therefore, lunch time is a good time to visit.
Access to the restaurant
Mon. 17:00-23:30 (LO.23:00)
Tue-Thu: 12:00-15:00(LO.14:30) 17:00-23:30(LO.23:00)
Fri./12:00-15:00(LO.14:30) 17:00-2:30(LO.2:00)
Sun/12:00-23:00(LO.22:00)
Closed: No special holidays
Parking: Available
Address: 2F, 4-22-4 Gamo, Joto-ku, Osaka-shi, Osaka 536-0016
Store URL
お好み焼き・串かつ 大衆居酒屋 ぼんくら酒場 蒲生店
蒲生四丁目のお好み焼き・もんじゃ、お好み焼き・串かつ 大衆居酒屋 ぼんくら酒場 蒲生店のホームページです。お店の基本情報…
There are no specific holidays, but the hours of operation vary depending on the day, so check the day of the week and the hours of operation. Also, it gets quite crowded at night, so it is safe to make a reservation. The parking lot in the middle of the city is very nice, but the entrance is complicated and you have to face west to enter.
Menu & Taste
Okonomiyaki, teppan-yaki, and kushikatsu all in one place!
Menu. Okonomiyaki.
Teppan-yaki.
And kushikatsu.
With the exception of takoyaki, all the gourmet foods you associate with Osaka are here.
You've been obsessed with takoyaki for a while now. In vain.
Unfortunately, this time the toast was water. Even if you prayed for it, it didn't turn into lemon chu-hai.
If you change it by wishing it, you won't be able to drink it anyway.
Kushikatsu has to be this one.
The variety of skewers is neither too many nor too few, but I have the impression that they have the ones they need to have.
You look so arrogant!
When in doubt, start with a serving of skewers, this time I went for 10 skewers.
The skewers are all covered with batter, of course, so it's hard to tell which is which, as is often the case with skewers. Here is an explanation of the lineup of 10 skewers.
I'm devouring them without knowing which one it is, so I think it's not a problem.
Also, many restaurants that have disappeared since the Corona disaster are fully equipped with this one. No second dipping sauce.
It tastes good with the sauce on it, but you just dab it on and bite into it.
It is delicious. It is the Osaka way. The "no second dipping" rule is a manner that every gentleman would have voluntarily arrived at if he thought about it rationally. You put a sufficient amount of sauce on it once, and then pour it on.
Drizzling is just irresistible, isn't it?
The author seems to have lost himself in the revival of the sauce, but I am usually like this. ☆
We added more as soon as we could, because five sticks each would be gone in a second. Asparagus, hormone, something I forgot, cheese, and mochi.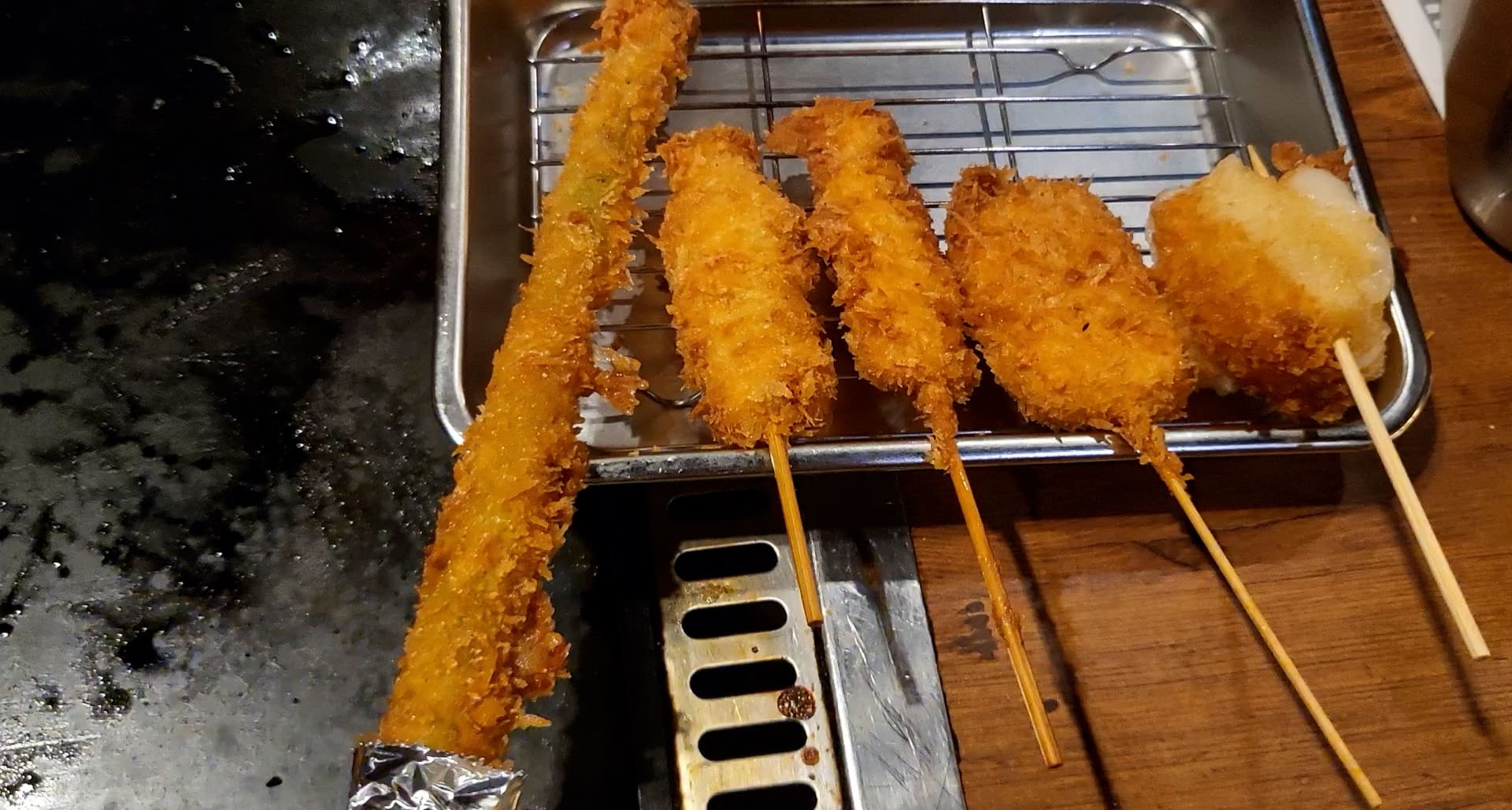 While asparagus and horumon are must-haves, they tend to be omitted from the assortment, so be sure to make a habit of asking for them separately.
There is a reason why the fried chicken skin is plain.
Fried chicken skin is a standard snack menu item.
Most fried chicken skin usually comes pre-seasoned, but here it is plain. In other words, there is no flavor. But there is a reason for that. If you don't have it, just add Osaka's three sacred ingredients: sauce, mayo, and aonori (green laver).
In other words, it is a message to Osaka people who are particular about taste to do as they please. This time, we went with a light version with only mayo and aonori.
Tonpei Mille-feuille
Tonpeiyaki is a good choice for those times when okonomiyaki is a bit heavy. This time, it is called "mille-feuille" because it has cheese inside.
The sound of the dripping sauce and mayo burning and the savory smell is irresistible.
There is pork inside, and the clumsy author had to disassemble it beautifully after this. Therefore, there is only an unsightly picture, so I will refrain from posting a photo.
Bonjiri is both elastic and juicy at the same time
I personally consider bonjiri to be the most delicious part of chicken.
The meat is surprisingly elastic and juicy at the same time, making it both easy to eat and full of flavor, and it is truly the "most beer-inspired" menu item.
Then don't order it!
The best menu item of the day at this restaurant is the "Tamago Kake Gohan Yaki"!
I wanted something that would fill me up at the end of the meal.
I ordered this dish with such a light heart, but my low expectations were probably a blessing in disguise.
As the name suggests, it is grilled rice with an egg on top. It is a very simple dish, but the texture of the egg on the surface is just right, the aroma of the burnt soy sauce is like that of a grilled rice ball, and the rice inside is chewy. I feel as if I have seen the abyss of Osaka, where the wisdom of the people of Osaka is unmatched when it comes to making B-class gourmet food. I will definitely try to imitate them next time.
Don't try to copy the collective wisdom of Osaka!
Summary
That's all for this time.
A homelike bar where you can feel the atmosphere of Osaka. As the reviews say, the staff is also the charm of this restaurant.
When you step into the restaurant, you will be greeted by the smiling faces of the staff and be enveloped in a sense of comfort.
The restaurant's recommendations include not only the standard menu items such as kushikatsu and okonomiyaki, but also the omelet with rice and egg is a must-try menu item.
The restaurant is perfect for a variety of occasions, whether you are enjoying a lively atmosphere with friends or relaxing with family. Why not come and enjoy the hospitality of the staff and the delicious food?
Youtube version uploaded.
We have created a video introducing the restaurant "Bonkura Bar Gamo". Please take a look at it as well.